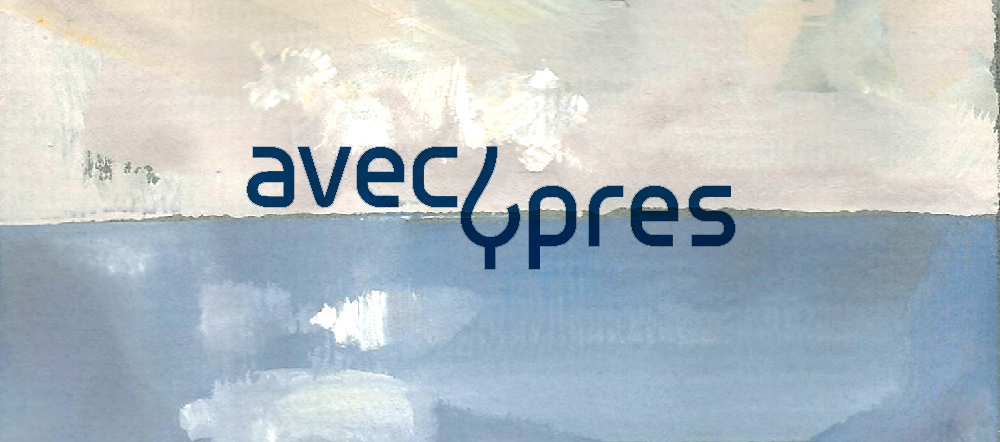 A MUSICAL AND VISUAL COLLECTION
Collection AVEC on the record label Cypres is the fruit of the meeting of the creative worlds of the composer Pierre-Adrien Charpy, the soprano Raphaële Kennedy and the photographer and video artist Isabelle Françaix; it develops a collaboration in which music and image express themselves in a common space that encourages metamorphosis. It enables new creations to live alongside Early Music and folk music : interlacing textures, stratifying memory, dialoguing between different artistic disciplines. Collection Avec opens up new ways of listening, taking the listener off the beaten track, sign-posted by Didier Lamare's words. The Belgian record label Cypres crosses many frontiers around the shared dream of three French artists and a raconteur.
At this time when the CD object disappears for the benefit of the only sound object, directly accessible by the internet, new collection AVECypres tries an alternative that would be the squaring of the circle : to insert a musical proposal – particularly plentiful in this particular case – in a beam of artistic objects in intimate connection with the central proposal and wholly or partly accessible via the universal cloud themselves.
La Libre Culture, Martine D. Mergeay, 2017
---
CREATIONS
---
Kaija Saariaho | Jean-Baptiste Barrière
Blu-Ray & CD box set Ekstasis
Aliisa Neige Barrière | Camilla Hoitenga | Raphaële Kennedy | Design and realisation of the images, electronics and final mixing, electronics realisation : Jean-Baptiste Barrière | Video processing : Pierre-Jean Bouyer et François Galard | Video shooting, editing and color grading : Isabelle Barrière | Technical conception and supervision : Image Auditive | Engineering, editing, vocal and instrumental sound mixing : David Lefeber / Metier Productions | Electronics realisation : Thomas Goepfer | Booklet notes : Didier Lamare | Translations : Paul Willenbrock | Digipack's pictures and booklet's cover : Jean-Baptiste Barrière | Booklet's photographs : Isabelle Françaix | Graphic design : Luc Van de Velde | Interviews moderated by Pierre-Adrien Charpy, directed by Isabelle Françaix
AVECypres 02 / CYP2624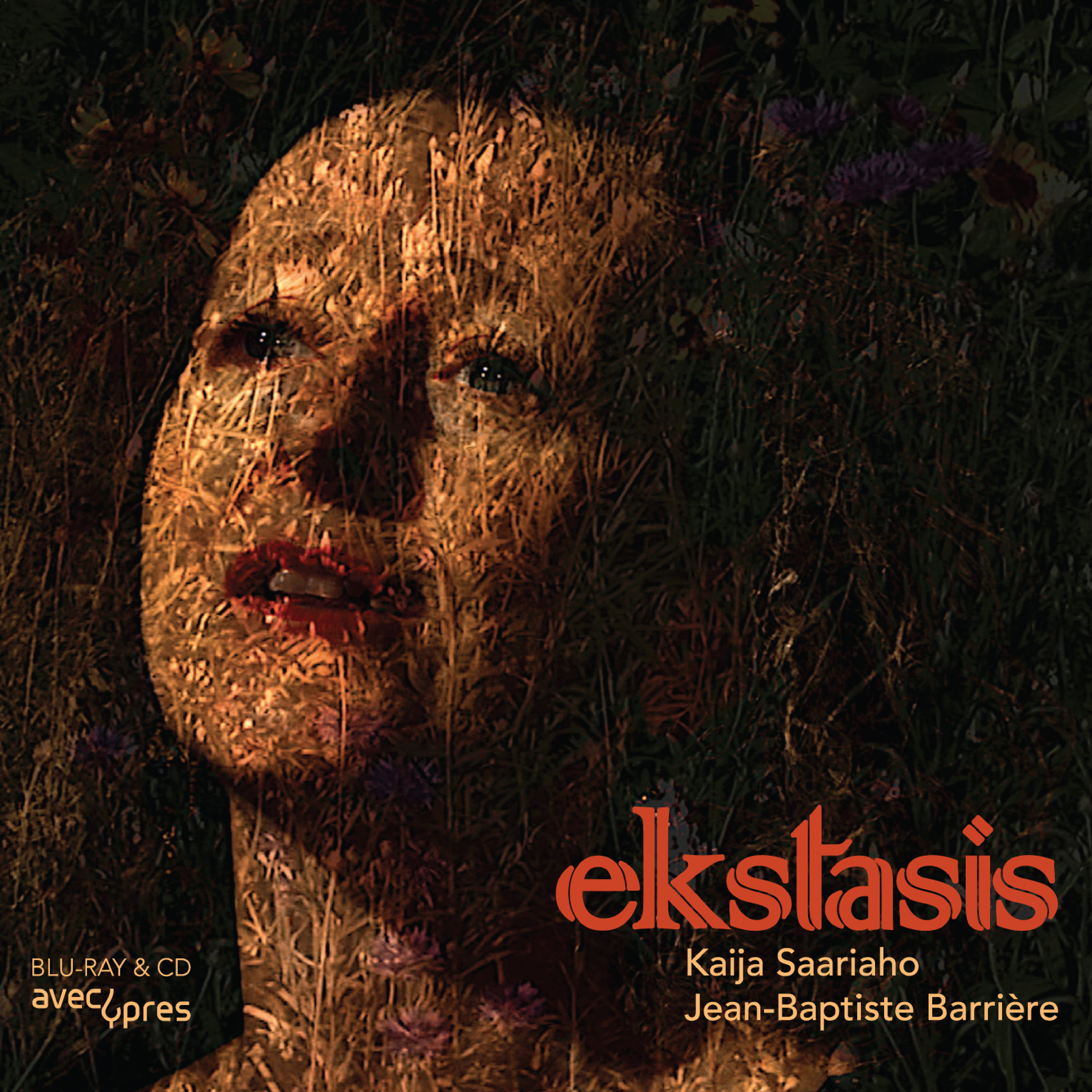 Sensory correspondences, displacement of the imaginary, reversal of perspectives : it is to such an experience that ekstasis invites you, a musical recording and multimedia object constructed from sound and image centred on six works by Kaija Saariaho and Jean-Baptiste Barrière. The complementarity of their creative paths, living together and often working together, shape the fairly precise organization of the work featured in this album. Prima la musica, dopo la visione… The three works by Kaija Saariaho are musical compositions – sonic, acoustic and electronic constructions, which already existed before her husband unfurled his vision of them. The three pieces by Jean-Baptiste Barrière were conceived as multimedia works, and primarily for a visual concert, with lines and rhythms that are perhaps more direct, leaving spaces open for receiving the images. The album is at the same time a première and, although not a retrospective as such, at least a look back over twenty years of Jean-Baptiste Barrière's multimedia work with music, and especially on the visual concert. Set down for the first time on a high-definition medium, with meticulous attention to calibration, editing and to every breath, this work has been freed from the vagaries of the stage to face other constraints.
Didier Lamare
An exhilarating Blu-Ray sets « six visual concerts » by Finnish composer Kaija Saariaho and by French composer-video artist Jean-Baptiste Barrière into sound images.
L'Echo, Stéphane Renard, 2019

Box set Ekstasis : precious and exceptional object.
A sensory journey that accompanies a music that is just as much.
Le soir, Gaëlle Moury, 2019

[…] Same propensity to intimate confidence in the three works of each composer. Those by Saariaho (written in the 1990s) show an exceptional quality of deployment. Arachnean weaving for Nocturne, spatialized amplification for NoaNoa and charming revolutions for Lonh. More recent (2003-2014), those by Barrière (the twirling Crossing the Blind Forest, the bewitching Violance and the deep Ekstasis) reveal a taste for vocal or instrumental projection. Before even viewing the Blu-Ray linked to the CD (same program, with images), it goes to show that this musician doubles as an authentic director.
Le Monde, Pierre Gervasoni, 2019

Three like-minded musicians are brought together for this box set : flutist Camilla Hoitenga, faithful to the two composers's labyrinth ; violinist Aliisa Neige Barrière, their daughter, whom physical and musical presence diffuses a poisonous enchantment ; soprano Raphaële Kennedy in a silver-tipped incarnation, who gives, in our opinion, benchmark versions of the two vocal pieces.
Valeurs actuelles, L. L, 2019
Buy the physical box-set (Cypres records)
Order by mail to the producer (Da Pacem)
Buy the dematerialised form (vimeo AVECypres)
---
Pierre-Adrien Charpy
2-CD box set Sillages
Raphaële Kennedy | Duo Anthony Leroy & Sandra Moubarak | Thomas Keck | Marylise Florid | Anaïs Gaudemard | Solistes XXI, direction Rachid Safir | Moussa Héma | DA PACEM : Sylvie Moquet, Yannick Varlet, Pierre-Adrien Charpy | Engineering, editing, sound mixing : David Lefeber / Metier Productions | Booklet notes : Didier Lamare | Translations : Paul Willenbrock | Photographs : Isabelle Françaix | Graphic design : Luc Van de Velde
AVECypres 01 / CYP2623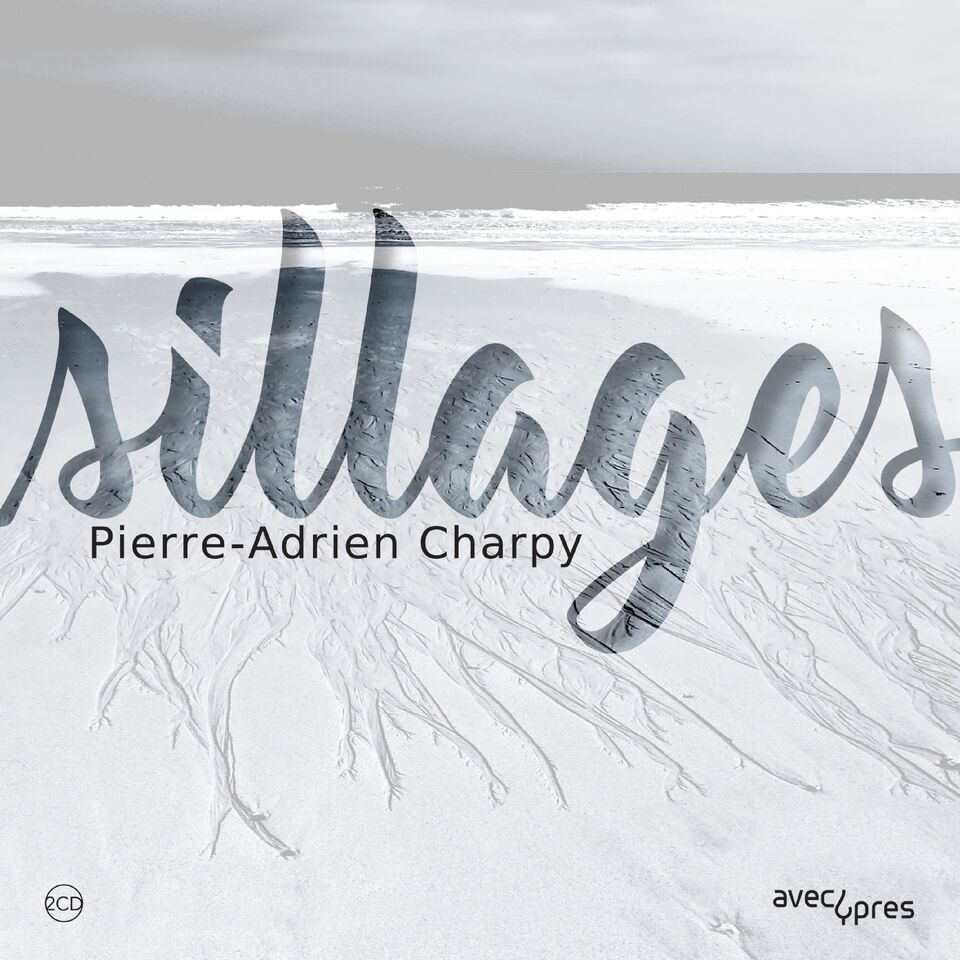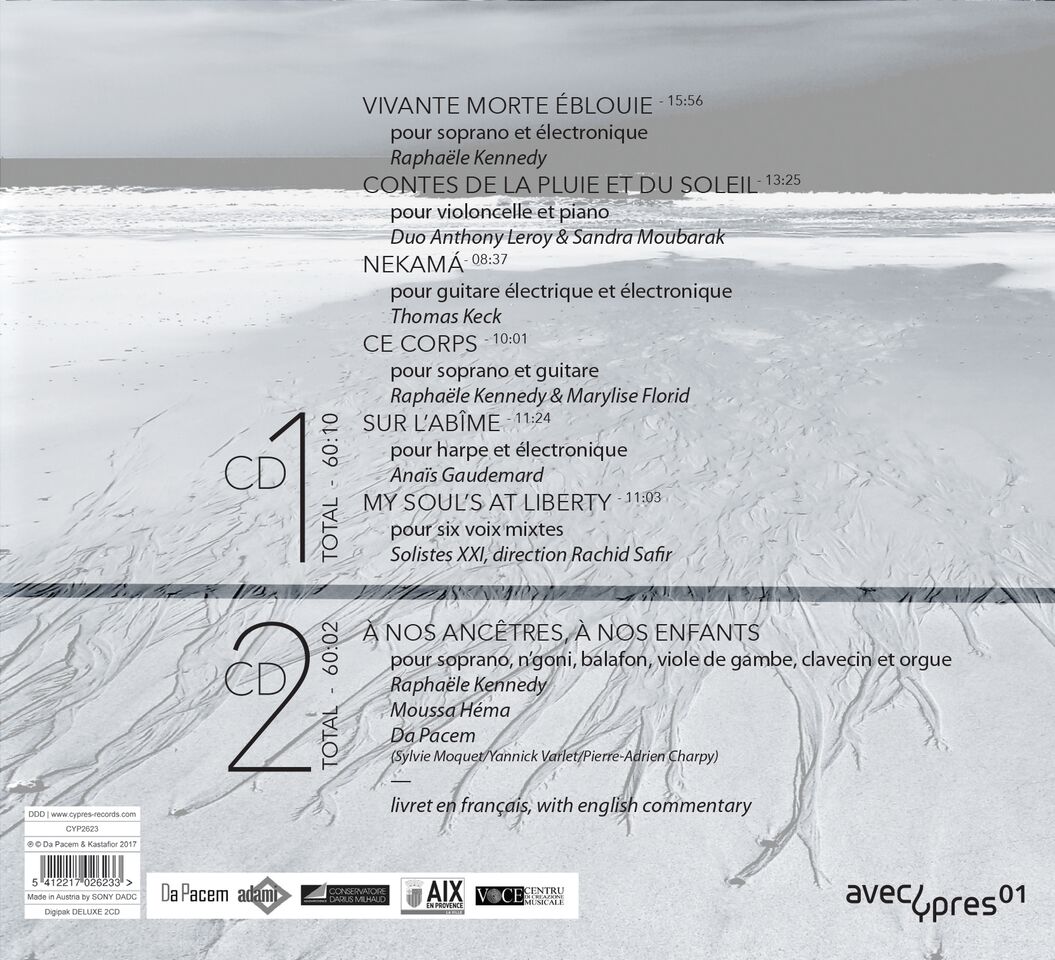 Some sorts of music can sound like delicate lithographs, others like large frescoes. The pieces presented in the first volume of this album belong to the composer's collection of jewellery, his etchings, his small-scale works with the delicate wash of the watercolour or the precise impasto of the paintbrush. The second volume unfurls in one breath a concert-work which is nothing less than a panorama painted on fresh plaster, depicting an almost hallucinatory voyage in which the listener is invited to dance just as much as to meditate. This hour of music, a sequence of baroque, contemporary and traditional music, forms an innovative opening to the music of our time, into which some will venture who would otherwise never have dared.
Didier Lamare
His is an organic multifaceted music, through which run visible strata and unsuspected crevices, enlivened by surface currents and subterranean flows. […] His music is that of today, neither modern nor post-modern – often a music of the sea, always of open spaces, of zoom and of wide-angle, of sensations, of emotions. And his composition is free from the dogmas […].
Didier Lamare, 2017

The album is as much a success on visual plan – signed Isabelle Françaix for photos and Luc Van de Velde for the graphic design – than on the literary level, thanks to Didier Lamare's captivating texts (which are not without humour), which lead the reader through a program […] of an outstanding richness and diversity. In the middle of it, French Pierre-Adrien Charpy, […] a prolific, imaginative and free composer, whose every work here presented is the fruits of a specific alliance and, therefore, a particular inspiration. At the top, those which make the close connection to his partner […] the soprano Raphaële Kennedy.
La Libre Culture, Martine D. Mergeay, 2017

At the beginning, a long and winding tune for Raphaële Kennedy's voice […]! We can hear the bodies abandon over the sensual breath of the soprano, over rhythmic stubbornness and hanging twinkle percussions, over the surf of the sea… […] vast sound world imagined, between 2001 and 2015, by one so major as talented composer […]! In « Sillages », one can discover sound dialogues mixing traditional textures and electronics. It is an invitation to travel towards so familiar land as incredible […]. They are metis pieces, imbued with sensuality and light, lively, powerful and voluptuous, which reflect Pierre-Adrien Charpy's opening to historic, geographical and stylistic worlds.
Zibeline, Jacques Freschel, 2017

Pierre-Adrien Charpy, […] escaped from chapels, [is] focused on the essentials : to breathe, to feel, to transmit. From Marseille, he is a solar and marine musician. The photographs illustrating the digipack testify of this deep water and iridescent lights universe, which it is easy to identify in most of his pieces. Intellectual, that is knowledge is not a shame for him, sometimes mystic, he discreetly uses in his work the accumulated strata of Western culture […].
Valeurs Actuelles, Lionel Lestang, 2017

At the composer Pierre-Adrien Charpy, there is […] a whole memory of the music which appears […] : it is the density of a rich sound layer, fed in depth on past in modernity's present.
Le blog-note de Benito on radio dialogue RCF, Benito Pelegrín, 2017
Buy the box-set (Cypres records)
Order by mail to the producer (Da Pacem)
---
Isabelle Françaix
Movie Vivante morte éblouie
Raphaële Kennedy | Image : Isabelle Françaix | Music : Pierre-Adrien Charpy | Sound : David Lefeber | Producer : Hervé Alexandre – Matsylie Productions
A woman repossesses one's image by giving way to love. At the heart of intimacy, two beings discover by getting closer the liberty which connects them to the beating of the world. Why don't we just find the simple, obvious and wild beauty of our humanity?
[…] outstanding and bright […]. Everything is light, body, nature and voice there.
La Libre Culture, Martine D. Mergeay, 2017
---
CONTACT
---
Collection AVECypres
Contact : dapacem1901@gmail.com
Blog : collectionavec.canalblog.com
Pierre-Adrien Charpy & Raphaële Kennedy
producers
Phones : +33 (0)6 63 63 68 53 / +33 (0)6 60 92 25 62
contact@pierreadriencharpy.com
contact@raphaelekennedy.com